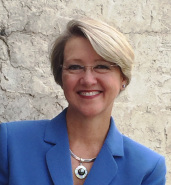 Featuring
Angela Lust of Longview
Strategies, LLC
As founder and President of Longview Strategies LLC, Angela helps business owners and organizational leaders bring the "long view" into present focus.  Drawing upon 20+ years of management experience Angela consults with businesses, nonprofits and community groups to navigate transition. She is known for her ability to connect big picture ideas to discrete tasks and resources.
Lust has designed and guided complex projects, trained and counseled numerous individuals, and is adept at facilitating conversation among diverse stakeholder groups. Her passion is helping others articulate and implement steps that enhance their effectiveness and that of their business or community. She delights in navigating comprehensive multi-faceted projects that call for vision, creative alternatives, or challenge of existing assumptions.
Angela holds a Masters of Business Administration degree from West Texas A&M University and Chartered Financial Consultant (ChFC) certification from The American College. She serves on the boards of the Amarillo Area Estate Planning Council, the Amarillo affiliate of the Society of Financial Service Professionals, and the Center for Rural Entrepreneurship based in Lincoln, NE.  She is a member of Business Enterprise Institute, an international network of business exit planners, and a member of BNI Business Builders of Amarillo.
Join us for February Lunch & Learn, where Angela Lust will talk about succession planning and developing new leaders within a company!